Nexus S vs Samsung Galaxy S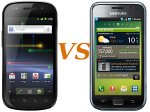 What are the differences between Nexus S and Samsung Galaxy S Android smartphones?
The Nexus S comes with the latest Android OS version. The Samsung Galaxy S will probably have to wait some time before it gets upgraded.
The Nexus S has NFC support for ticket transportation or contact less payment integration.
The Nexus S has a Flash for the camera.
The Galaxy S has microSD expandability.
The Galaxy S has the latest Bluetooth version which brings potentially higher transfer rate and some connection reliability enhancement.
The Galaxy S has FM Radio to listen to your locale radio stations.
The other features are pretty much the same except the dimensions which slightly differ.