Barnes and Noble eReaders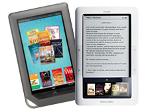 The American book retailer Barnes & Noble started developing their own electronic books brand: Nook. They launched their first version in October 2009.
There is now different versions that all use the Android platform: Nook WiFi (1st edition), NookColor, Nook Simple Touch, Nook Tablet, the latest version is the Nook Simple Touch with GlowLight to easily read in the dark.
For developers there is an official website to get SDK and support to develop applications on NOOK tablet and NOOK color:
barnesandnoble.com
And an unofficial website with information for other versions too:
nookdevs.com
Find below a more in depth comparison of these devices.