Comparison of e-book readers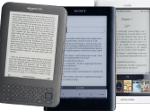 e-readers also known as e-book readers or e-book devices, are designed primarily to read digital books and periodicals. There is two different kind of devices in this comparison:
ePaper devices
The electronic paper technology (e-paper), try to simulate a traditional printed paper. It offers a better readability especially in bright sunlight. This technology also extend the battery life, since the screen requires electricity, only when refreshing the page. The drawbacks of this technology is the bad refresh rates which make it not appropriate to play videos, and the colors are limited to few levels of gray. However due to the reading comfort the technology provide, choose this kind of device, if you plan to use it intensively for digital books.
Other devices
In this comparison there is devices which don't use ePaper technology, but use instead traditional color screen (and are more considered as tablets): The iPad. Both of them offer applications to read electronic books, but reading on these devices might not be as enjoyable in particular in sunlight. If you are looking for a device which is not dedicated for reading but more of a versatile device for surfing the web or playing games you might consider it.
Find below a feature oriented comparison table to choose the ereader you want. And don't hesitate to modify the table, correct errors, comments or promote the ereaders you like.