Comparison of web fonts solutions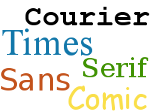 When designing a website you or your customers probably want to change from the default available fonts. There is several alternatives with their own drawbacks. Make sure to have a look at the comparison table below to make the right choice for you.
Main aspects to watch
Compatibility
If you want your website to look nicely on most browsers like an iPad or some other mobile devices or on old browsers, you will have to be careful with the compatibility section.
Flash Of Unstyled Text (FOUT)
During a small duration the page show the default browser font, before refreshing the page with the font you want. To avoid this annoying behavior choose a technique that loads quickly: "with no FOUT"
Related comparisons: browser-fonts-support-comparison