Making photos albums or magazines with a group of friends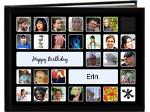 Social photos books are made with photos from differents friends sharing photos online. They can now build collaborative photo albums or generate automatically magazines from their online content.
The difference of albums sizes can be visualized and compared when clicking on the top left graphic icon of the table.
If you know other websites that provide this kind of services, do not hesitate to add them to this collaborative comparison table.