Comparison table of the popular tablets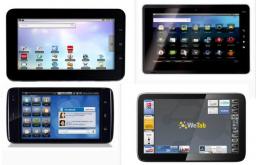 Compare the current popular tablets : Amazon Kindle Fire HD vs Apple new iPad vs Google Nexus 7 vs Samsung Galaxy Tab 10.1
This is collaborative comparison chart: do not hesitate to update it and add new tablets or comparison criteria (clicking on "Add" or "+" buttons). There are other saved tablets comparison matrix views here: socialcompare.com/...
You can create new matrix view with other tablets selections or criteria by clicking on the "new view" button, then publish the new chart.
You can also navigate through all available tablets here: socialcompare.com/... and use the "add to compare" button to create live comparison chart about what you really want to compare.
Finally, you can compare visually the tablets dimensions by clicking on the top left corner button of the table (graph button).