Customer feedback software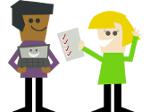 This comparison chart compares various customer feedbacks software that enable websites & companies to get user feedback about their service, product...
Customers can easily share knowledge, ask questions and get anwsers or request new features development. It is an easy way to discuss and share ideas between customers and the company. These productive conversations enables to collect easily interesting ideas and user feedbacks.
Do not hesitate to update this collaborative comparison table adding new feedback form community platform or any comparison criteria to this current list.