Disposable Temporary Email Comparison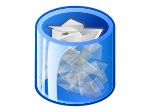 This list of disposable mail address services helps you fight against spams (unsolicited mails), they provide you with a temporary free email address. All the emails sent to this new created throwaway email address are either:
forwarded to your own real email address during a given time period.
or publicly/privately accessible via a temporary disposable email inbox on their website which automatically expires after a certain time period..
These services does not allow to send anonymous mail. They only helps you register to website you don't trust. Or publish an email on public forums without revealing your real email address.
These mail services give you usullaly a free email account, but few of them provide also some premium account or options.